Ever notice that your website doesn't appear on Google or is positioned so low it's difficult to find?
Want to drive more traffic to your website so potential clients can discover the unique and wonderful things you do?
The truth is tough but it will set you free and open your business up to new horizons.
Get a free SEO report on your website and find out how to improve your rankings quickly and easily.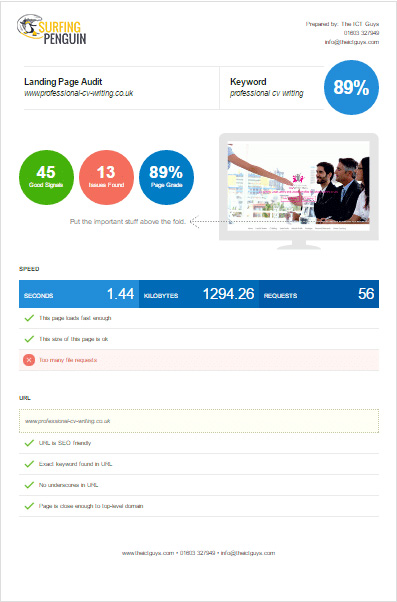 HOW DOES IT WORK?
Our free search optimisation report exposes where the SEO on your website is compromised. Armed with this information, you can quickly act to improve your visibility on Google. Designed specifically for agencies and business owners, our report is easy and takes minutes to do for your peace of mind.
Our free SEO report looks at the following:
Heading tag selection order and optimization
Looking for more?
For a more detailed understanding of how to improve the SEO on your website, we're happy to send a Surfing Penguin representative to spend a complimentary one-hour SEO consultation with you. During this time, you'll find out what the report means for your business, how to act on the information provided and some further SEO strategies you could use yourself. Also find out more about the services we offer.
Let's Work Together!
Call our office on 01603 327949 to discuss our free SEO test or to discuss your results.